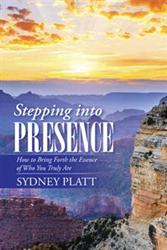 Presence is achievable by everyone…. If more people learned to relate to the world through Presence, perhaps we could create a culture of positivity and peace rather than one of intolerance and emotional reactivity.

PEARLAND, Texas (PRWEB)
August 27, 2016
"Stepping Into Presence: How to Bring Forth the Essence of Who You Truly Are" (published by Balboa Press) is an experiential guide to help readers become what author Sydney Platt describes as "truly present." In the book, Platt explains why the personality is the most powerful obstacle to being present, and how to sidestep the ego's agenda that prevents people from finding their center and living their true purpose.
"Many truth…